We Specialize in Commercial Low-Slope Roofing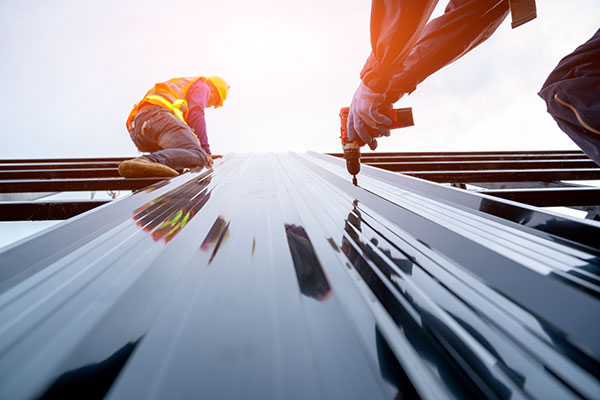 A Roofing Contractor With the Expertise You Need
Commercial buildings have unique challenges when it comes to roofing, and Innovation Roofing & Restoration, LLC, can handle them all. As an experienced roofing contractor, we have expertise in the installation of all kinds of commercial roofs, from steep-slope to low-slope and flat roofs. Call us today for a consultation.
Commercial Roofing Options
If it has been a while since you had a roof replacement, you will be pleased to discover that manufacturers have been busy innovating and improving their products to make them more weather-resistant, more energy-efficient and, in some cases, more affordable. Innovation Roofing & Restoration often recommends Mule-Hide roofing materials and components because their products are of the highest quality. Among the options:
TPO (thermoplastic polyolefin) is a great choice for low-slope roofs. It is a heat- and UV-resistant single-ply roofing membrane that is strong and cost-effective, no matter how large the roof.
MB (modified bitumen) is ideal for low-slope roofs as well as flat ones. Its asphalt base and multiple layers make it especially weather-resistant.
EPDM (ethylene propylene diene terpolymer) is so durable that it can last for up to 50 years. When it does reach the end of its lifespan, this rubber roofing membrane is recyclable.
BUR (built-up roofing) reflects the sun's rays to help keep the interior of your building cool. It is multi-layered, fire-resistant and wind-resistant.
Peel-and-stick is a budget-friendly, thick and durable underlayment.
Gravel ballast protects the underlayment and acts as a barrier against the sun's UV rays and extreme weather. Applying gravel ballast can make your flat commercial roof last longer.
Innovation Roofing & Restoration can install asphalt shingles, metal, stone-coated steel, clay and tile roofs too.
Contact Us Today for Your Commercial Roofing Needs
For a roofing contractor with experience installing roofing systems on commercial buildings of all sizes, call Innovation Roofing & Restoration, LLC, at (303) 465-2095 or fill out the online form to request an estimate. We offer repairs and storm damage restoration too. Se habla español.